Frequently Asked Questions
---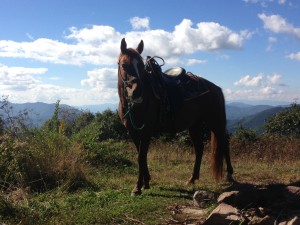 Q: What should I wear to ride?
A: We recommend that you wear comfortable clothing and come prepared for all kinds of weather. Please remember that this is a mountain climate, so the weather can change quickly. Closed toe shoes are highly recommended, as well as long pants.
---
Q: What if it's raining?
A: We will still ride if it is raining. Most of our trails are up in the forests so there is coverage from the trees and still offers a fun and enjoyable ride regardless of the weather. We will not go out if there is thunder and lightning. If you are concerned about the weather, please call the barn before you come as the weather can be completely different on one side of the mountain from the other.
---
Q: Do I have to make reservations?
A: Reservations are HIGHLY recommended. This provides us with time to be sure to have horses ready for the rides as well as to assure that you don't show up and we have no openings for the day. We want you to have an enjoyable experience and can best provide this if you allow reservations to be prepared for your trip.
---
Q: Do you allow double riding?
A: We do allow double riding for parents and their younger children. Please inquire when making your reservations.
---
Q: Do I need to allow extra time for the ride?
A: Yes, we suggest that you try to show up about 15 minutes prior to your scheduled ride time and allow about an additional hour to your trail time to allow time for check in, instruction and getting on and off the horses. By counting on that extra hour, you'll be able to make plans for the rest of your day and know that you won't be running behind.
---
Q: Are tips required for guides?
A: Tops are HIGHLY recommended for your guide. Please keep in mind, the majority of our guides work for tips only, (much like a restaurant) and you should tip accordingly. Guides are provided to help keep you safe and entertain your questions along the way and your tips are greatly appreciated.